The english version is under progress, currently untranslated chapters are in german...
In case of incorrect translations please contact "translate (at) mehev (dot) de" - thank you
Monitor control centre Hamburg-Harburg starts of operation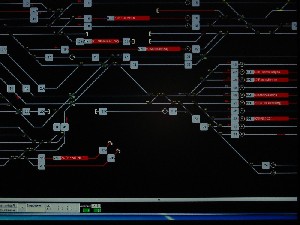 After several month of construction and configuration the new monitor control centre of the station Hamburg-Harburg could be approved for the presentations of the model railway at the Museum für Hamburgische Geschichte on March 16, 2010. The new monitor control centre is the biggest and comprehensive control center of our layout, in a manner of speaking the centrepiece. Analogue to the original of the station Hamburg-Harburg it combines several former local signal tower, i.e.:
Hnt (Harburg Nordturm)
Hmt (Harburg Mittelturm)
Hst (Harburg Süd Turm)
Heg (Harburg Einfahrt Gbf)
Posten 66 und
Hga (Harburg Gabelung).
Now all train runs between the Süderelbbrücken (from/to Hamburg main station bzw. Hamburg main freight yard), the Unterelbebahn (from/to Neugraben and harbour freight yards), the scenery "Seevetal" from/to Hanover and the section from/to Bremen could be controlled and managed by this monitor control center. There also could managed all shunting and train runs in the station Hamburg-Harburg, in the freigth yard and depot Harburg, similar to the original on save routes.
Now we possess al well the previous track control panels, the button control panels similar to german SpDrS60 (original control panel of the nineteen-sixteeth of the Deutsche Bundesbahn) as the modern monitor control center with keybord and mouse, similar to the control center of the Deutsche Bahn. So we managed another step to create a perfect model of the big original.
Of course the safety of the train runs is unchanged. The new control center is connected with all other control panels in the signal tower and the hidden yard, all informations are substitude between the PCs. Additional all PCs get the position and characteristic from the MpC, that hosted these information, controls all actions of the signals and switches, switching of routes and the according train runs and newer the less stores these information in a database. Afterwards we could analyse and solve problems. So we are up to date with safety and control and hope to provide our miniature-passenger and -railwayman and also our trains a secure living enviroment.
Because of the actual start of operation of the monitor control center we planned to install another PC-based monitor control ccenter for the remainig parts of the layout, the Hamburg main freight yard and the local freight sheds. The preliminary work allready has began.