---
Overview of festivities in 2021












---
Juni
90 years of the record-breaking journey of the Schienenzeppelin
On 21 June 1931, the experimental vehicle known as SCHIENENZEPPELIN set a world speed record between Karstädt and Wittenberge (Hamburg - Berlin line) with a top speed of 230.2km/h, which stood for 24 years.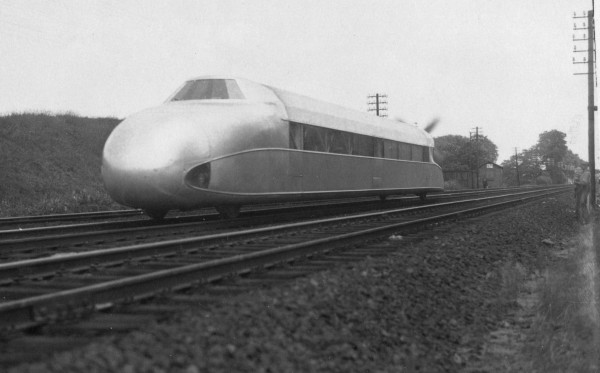 &nbsp &nbsp &nbsp &nbsp &nbspPhoto Wikipedia: Franz Jansen (†), Erkrath
Some details:
Year of construction: 1930, decommissioned 1939
Length: 25.85 m, weight 18.6 t
Propulsion: Aircraft propeller at the rear
Engine: Aircraft engine with approx. 500 hp, consumption: 600 L petrol per 100 km
Auxiliary engine with 50 hp for shunting
Finished vehicles: Single unit
A scale 1:32 model has been making its rounds on our model railway layout for about 30 years now.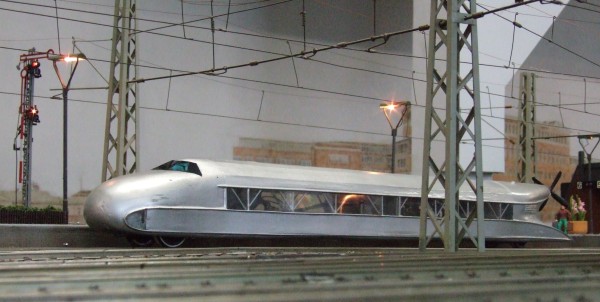 It is currently standing on a track in the shadow station, waiting for the demonstrations to resume and
to be used again.
H.Steffen



---
Juli
Review of the participation actions on the Sundays in July 2021 and on Sunday 1 August
Due to the corona-related protective measures in force, we were only able to offer a very reduced range of events this year. On the Sundays during the summer holidays we were able to offer our participation actions where the visitors were able to drive trains over the layout via a track diagram control panel

---
September
During the lockdown, work continued in the workshop and at the railway layout
250 turnouts and turnout drives checked, cleaned and partially replaced,
8 mechanical signals maintained,
1150 meters of track cleaned and partly renewed,
20 overhead line and tower masts checked and partially repaired,
15 steam, diesel and electric locomotives serviced (3 new "ironless" engines and 3 gearboxes installed),
assemblies prepared for the youth group modules
The museum craftsmen have repaired the presentation hall lighting
---
Our stock of historical and interesting
steam locomotives was supplemented
by the new-build locomotive BR10

&nbsp &nbsp &nbsp &nbsp &nbspModel in gauge 1 (still in the workshop)

Myth "Sputnik" - the last new-build steam locomotive type of the German Federal Railroad

The Deutsche Bundesbahn was proud of this new class, so proud that it depicted it in the in the 1958 DB calendar. Initially procured in two prototypes, the BR 10 was intended to replace the other express steam locomotive locomotive series and was to be produced in large produced in large numbers.
The 10 001 had a coal main firing system with stoker and a supplementary oil firing system. It was later converted to oil main firing. After a longer period of testing, the 10 001 was based in Bebra. and was given the nickname "Sputnik" because of its pointed nicknamed "Sputnik" because of its pointed smoke chamber. Soviet satellite ushered in the space age in 1957. space age.
Large quantities were no longer planned nor were they produced. It remained with the prototypes, as the electric train electric train haulage and diesel drive technology became more and more popular. Nevertheless the two locomotives have shown what modern demonstrated what modern steam technology modern steam technology could achieve.
The 10 002 was immediately equipped with an oil main firing and was in service until 1967. It was taken out of service in November 1967. The sister locomotive 10 001 was taken out of after a broken slide rod in July 1968 and has been and has been in the German Steam Locomotive Museum in in the German Steam Locomotive Museum in Neuenmark.


The original BR 10 001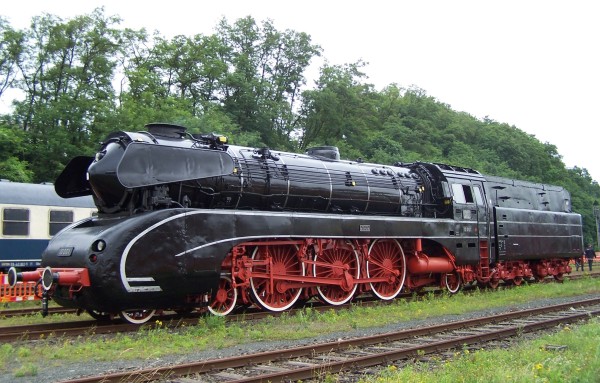 &nbsp &nbsp &nbsp &nbsp &nbsphttps://commons.wikimedia.org/wiki/File:10001_Hersbruck_30062007.JPG
Some Data:
Year of construction: 1957, decommissioned: 1968
Type: 2'C1'h3, wheelset mass approx.22t
Length: 26.5m, weight + tender: 208t
Tender: 2'2'T 40, 40m3 water, 12.5m3 heavy oil
Driving wheel 2.00m, running wheel 1.00m
Top speed: 140km/h
Power 2500PS
Finished vehicles: 2

---
November
What does the hole in the wall do?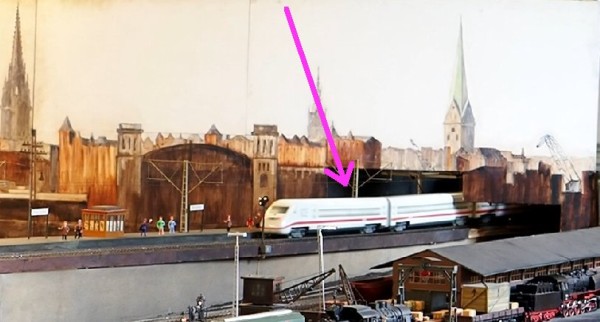 The secret of the "black holes" could be explored by interested visitors on three weekends in October.
We offered a look behind the scenes.
Via stairs, visitors entered the exciting world of staging yards, push-button signal boxes, trains waiting for their arrival, etc.
Many questions were gladly answered.
After a short explanation about the function of the track-side signal boxes and the timetable, some trains were dispatched by visitors.
Due to the Corona regulations the number of participants was very limited and there were repeatedly shorter waiting times.
Encouraged by the good response, we will offer this participation action again on a weekend in January, February and March 2021. Dates will be announced in good time on our homepage www.MEHEV.de. Take the opportunity to use the model railway layout from a different perspective and discover Details from up close.


---
She's back again!
After more than 2 years in the workshop, the repair of the class 52 is completed.
Motor, gearbox, linkage etc. were worn out by the daily operation of the plant.
It is currently in trial operation and is pulling goods trains over our facility.
After the still pending painting it will look like new again and is fit for the next years.
Here are a few key data:
The BR 52 was developed as a war locomotive (simplified BR 50) and was built from 1942.
After the end of the World War II many assemblies and spare parts were still available in factories and depots.
From these materials, further locomotives could be built. The last locomotives were completed in 1951 and were built more than 7000 times.
The maximum speed is 80 km/h forwards and backwards, and 1620 HP power is called up.
They were taken out of service until 1962 ( DB ) and 1988 ( DR ). Some copies survived until today in the original. They are maintained and put into operation by railway enthusiasts.