---
Overview of festivities in 2014
---
In 2014 the motto was
Model railway festival
" Full Steam instead of Pension"
We celebrated our 65th layout anniversary with you.
on Saturday, the 30th of August and Sunday, the 31st of August 2014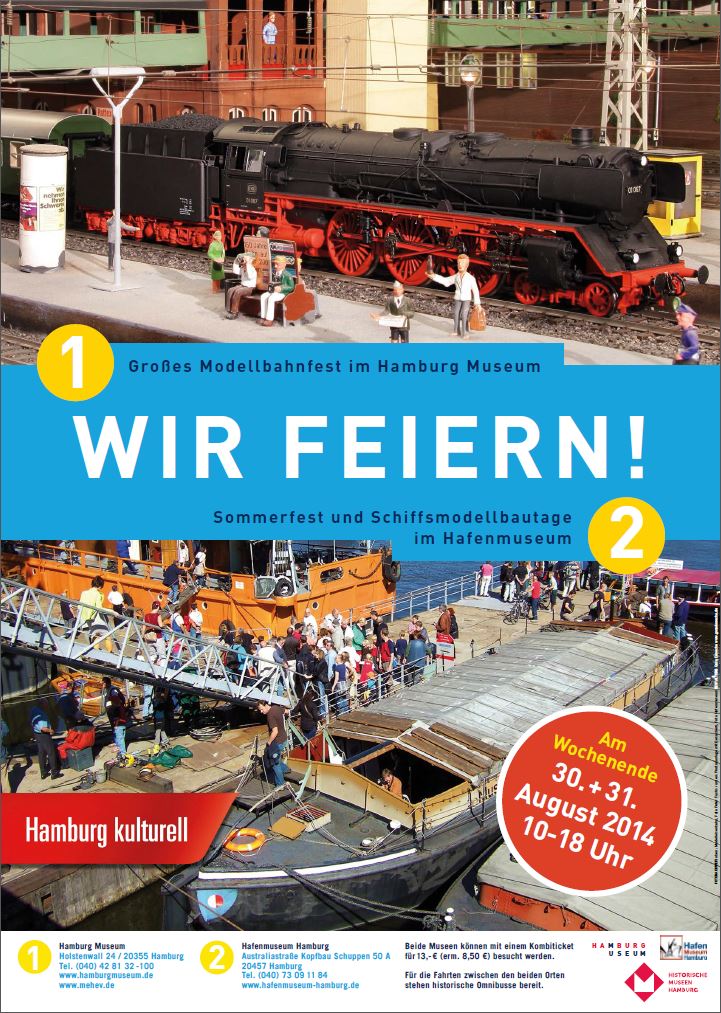 We would like to thank the many young and old visitors who celebrated the 65th anniversary of the layout with us.
| | |
| --- | --- |
| It fills us again and again with joy to put especially the younger spectators into traffic jams. | |
| | |
| | |
| The parents have to explain (if necessary with our support) the steam locom... | |
| or the abandonment of a railway depot with a coaling crane, | |
| while the grown-ups talk about the good old days. | |
| As always, special highlights between the presentations are the operation of the layout for the younger visitors and the workshop tours. | |
This year's model festival, however, took a very different course. than we planned.
Unfortunately, this year the inner courtyard of the museum stood for us as a exhibition space is not available. In mid-August the inner courtyard is closed because of static problems on the glass roof were determined that a costly 12 to 18 month renovation is necessary. To the model railway festival was already nearly the entire inner courtyard with scaffolding. This meant that we had reschedule. We would like to thank the museum management, who has named alternative sites in the short term. Some exhibitors were determined by the size of the alternative area or by the not satisfied with the lack of proximity to other exhibitors. We would like to thank these exhibitors once again expressly for the fact that in the short time we have not had any further We were able to organize alternative sites. Nevertheless some worth seeing layouts were shown, the tinplate plant in the Kaufmannsdiele is particularly well suited for the came to the fore. We would like to thank all the exhibitors, who the alternative sites have shown their layouts.
| | |
| --- | --- |
| On the ground floor there was a N-gauge module system with a replica of the Hamburg main station. | |
| In the staircase 1.OG a H0 module layout was shown, here a T5 of the K.W.St.E (Königlich Württembergische Staatseisenbahn), | |
| more trains in the 'Fiddleyard' were waiting for the mission. | |
| In the Kaufmannsdiele was a considerable... | |
| tinplate layout to admire. | |
Furthermore, a message has overshadowed the model railway festival, that we have the for 65 years may no longer be used. In many conversations we were told that we did not understand this decision. Unfortunately, we cannot say how long the model railway layout will last in this form. to visit. A move to other rooms of the Hamburgmuseum would be a great help for our association. a lot of trouble.